Energy Conversions
There are surprisingly many different units used to measure energy.
You can convert the energy measurement in one unit to another unit by clicking Utilities and then Conversions.

Holding the Control key and typing q has the same result.
In the Conversions window select Energy.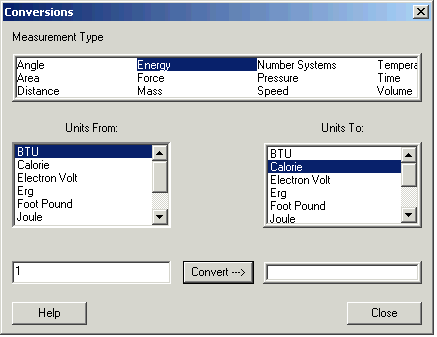 Click the unit you have in the Units From: box, and the units you want in the Units To: box.
Enter the number in the lower left box (the picture shows 1 BTU) and click Convert.
The conversions are based on:
1 BTU = 251.995 770 725 joules
1 kilo-calorie = 1000 calorie
1 kilo-joule = 1000 joules
1 electron Volt = 1.602 176 53 x 10-19 joules
1 joule = 10 000 000 ergs
1 Foot pound = 1.344 818 joules
1 kilowatt-hour = 3 600 000 joules